The product
The Provolone Valpadana DOP, which was born in the Padana Valley at the end of the 19th century, is part of the "pasta filata" cheeses family, characterized by the technique of spinning the cheese dough. Its production area runs between Lombardy, Veneto, Emilia Romagna, and the province of Trento. It is the cheese with the most variety of shapes and weights, in fact in the Production Regulations the typical shapes (salami, melon, truncated cone, pear) and the several possible weights (even up to 100 kg) are indicated.
There are two types of Provolone Valpadana DOP: Dolce and Piccante.
DOLCE, produced with calf rennet and aged for no longer than 2-3 months.
PICCANTE, produced with kid and/or lamb rennet and aged for a minimum of 3 months up to over a year.
The Provolone Valpadana DOP is also available in packs of about 200 g in supermarkets and grocery stores. All the packs must be marked with the DOP symbol, the identifying label, and the authorization number assigned by the "Consorzio Tutela Provolone Valpadana" to each packaging factory.
Production area
The Provolone Valpadana DOP production area includes the following areas:
Lombardy – the province territories of Cremona and Brescia; the municipalities of Torre Pallavicina, Pumenengo, Calcio, Romano di Lombardia, Fontanelle, Barbata, Antegnate, Martinengo, Covo, Calcinate, Bolgare, Telgate, Cividate al Piano, Mormico al Serio, Polosco, Carobbio degli Angeli, Chiuduno, Pagazzano, and Calvenzano in the province of Bergamo; the municipalities of Asola, Acquanegra sul Chiese, Casalmoro, Canneto sull'Oglio, Casalromano, Bozzolo, Rivarolo Mantovano, and Roverbella, all in the province of Mantua; the municipalities of San Rocco al Porto, Caselle Landi, Castelnuovo Bocca d'Adda, Guardamiglio, Santo Stefano Lodigiano, Corno Giovane, Corno Vecchio, Meleti, Maccastorna, Senna Lodigiana, Somaglia, Fombio, San Fiorano, Maleo, Codogno, Cavacurta, Camairago , Castiglione d'Adda, Bertonico, Terranova dei Passerini, Casalpusterlengo, Ospedaletto, Lodigiano, Orio Litta, Livraga, Brembio, Turano Lodigiano, Segugnago, Borghetto Lodigiano, Ossago Lodigiano, Villanova del Sillaro, Mairago, Cavenago d'Adda, San Martino in Strada, Massalengo, Pieve Fissiraga, Conegliano Laudense, Lodi, Corte Palasio, Crespiatica, Abbadia Cerreto, and Boffalora d'Adda in the province of Lodi.
Veneto – the entire administrative territory of the Verona, Vicenza, Padua, and Rovigo provinces.
Emilia Romagna – the entire administrative territory of the Piacenza province.
Autonomous Province of Trento – the municipalities of Ala, Avio, Besenello, Brentonico, Bleggio Superiore, Bleggio Inferiore, Calliano, Folgaria, Isera, Lomaso, Nomi, Nogaredo, Mori, Ronzo Chienis, Rovereto, Trambileno, Vallarsa, Volano, Arco, Dro , Molina di Ledro, Nago-Torbole, Riva del Garda, Terragnolo, Pomarolo, Villa Lagarina, Aldeno, Trento, Cimone, Garnica Terme, Terlago, Vezzano, Padergnone, Calavino, Lasino, Cavedine, Drena, Tenno, Fiavè, Grigno, Cinte Tesino, Tesino Castle, Pieve Tesino, Ospedaletto, Ivano Fracena, Strigno, Samone, Bieno, Spera, Scurelle, Carzano, Villa Agnedo, Castelnuovo, Telve, Telve di Sopra, Torcegno, Ronchi Valsugana, Borgo Valsugana, Roncegno Terme, Novaledo, Levico Terme, Vignola, Falesina, Frassilongo, Fierozzo, Palù del Farsina, Sant'Orsola Terme, Bedollo, Baselga di Pinè, Furnace, Civezzano, Pergine Valsugana, Tenna, Bosentino, Vigolo Vattaro, Vattaro, Calceranica al Lago, Caldonazzo, Centa San Nicolò , Lavarone, and Luserna.
Production area
The Provolone Valpadana DOP production area includes some provinces' territories in the Lombardy, Veneto, and Emilia Romagna regions and some towns in the Trento province area.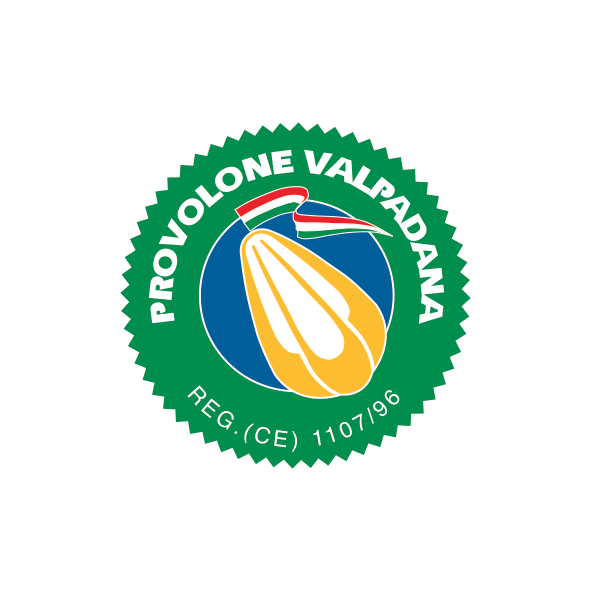 Il Consorzio Tutela Provolone Valpadana
The Consorzio Tutela Provolone Valpadana is a volunteer organisation established in 1975 under the name "Consorzio per la tutela del Provolone Tipico Italiano," subsequently changed to "Consorzio del formaggio tipico Provolone" (1986), then to "Consorzio Tutela Provolone" (1993), and finally, in 2002, to "Consorzio Tutela Provolone Valpadana."