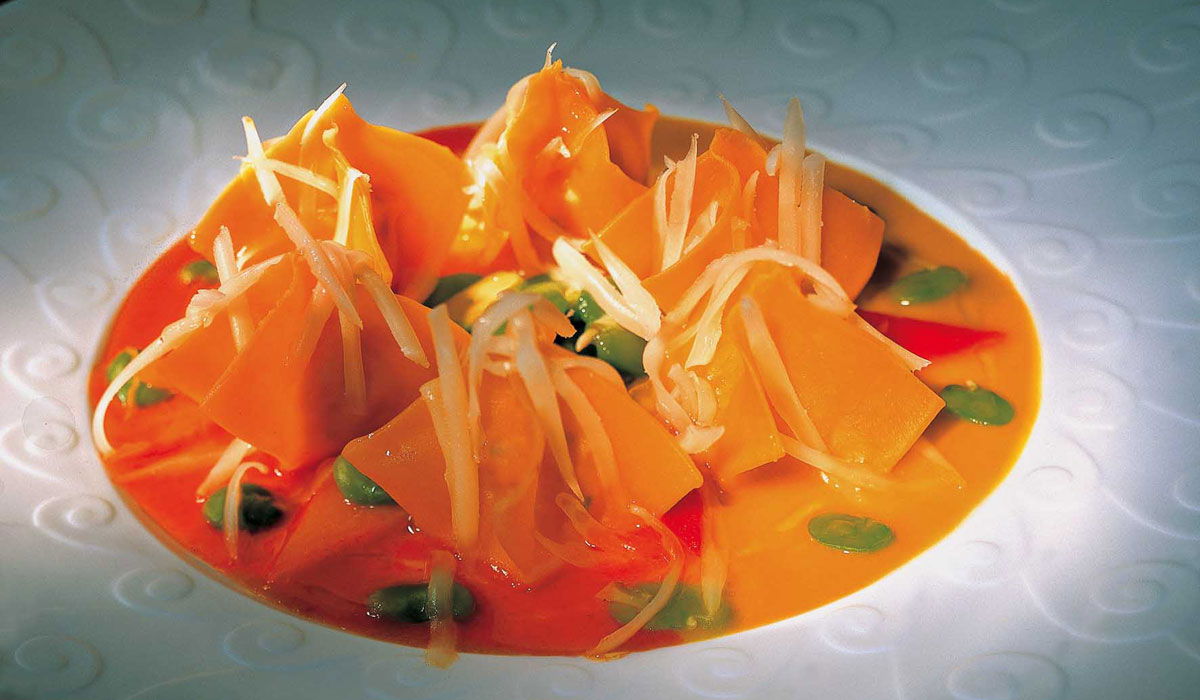 Ingredients (4 people):
100 g of aged Provolone Valpadana DOP
100 g of fresh fava beans
Nutmeg to taste
2 red bell peppers
2 yellow bell peppers
2 shallots
1 potato
1 egg
EVO oil
Vegetable stock
Salt to taste
Pepper to taste
Preparation:
For the sauce
In two small casseroles with the EVO oil, braise the finely chopped shallots with potato and peppers, separating the yellow ones from the red ones. Add salt and pepper to taste. When ready, blend the yellow and the red sauce and sieve them.
For the Ravioli
Chop the Provolone Valpadana DOP and the fava beans, add nutmeg to taste, salt, and pepper. Make 24 squares measuring 8 cm on each side from the previously prepared ravioli dough sheet. Brush the squares with the egg and put the filling in the center of each of them. Close by joining the four sides of the pastry to make a pyramid shape. Cook the ravioli in plenty of salted water for about 2-3 minutes. Pour a tablespoon of yellow pepper sauce and one of red pepper sauce into each of the 4 dishes, place 6 ravioli on top, garnish with fresh fava beans and some grated Provolone Valpadana PDO, and serve.